It all started with a routine trip to the library. We picked up our next book in the Magic Treehouse series, which just happened to be Day of the Dragon King. A Chinese counting book also made it's way home with us. Just those two books sparked an interest for Joey in Ancient China.
Follow the child. So we did. I checked out more books and videos on China–its people, language, and wonders. We made Chinese lanterns and hung them throughout the school room. We made a variety of teas (black, green, and oolong) and had a tea tasting.
We watched, fascinated, multiple times about the discovery of the terracotta soldiers (which were mentioned in the Magic Treehouse book). We were amazed to find out they aren't just generic soldiers, but fashioned to look like men in the emperor's army each with their own distinct features.
We made our own bamboo books with Chinese character cards as prompts.
Crafts for Ancient China
We made dragon masks with this printable from Skip to My Lou. And checked out a craft book focused on China for our dragon parade.
Montessori-Inspired Activities for China
Tea Tasting
Counting in Chinese
You can find the printable for Chinese number cards here.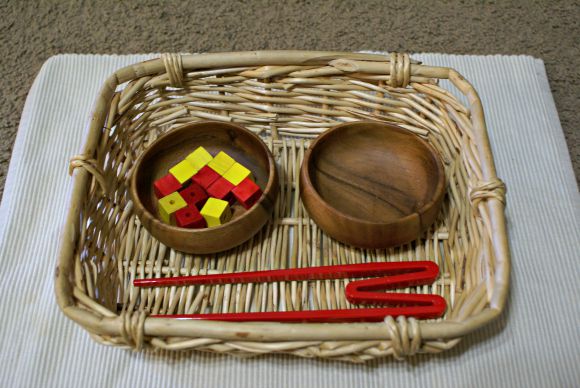 Transferring with Chopsticks
You can find these beginner chopsticks at Montessori Services.
Matching Animals to Picture Cards with Chinese Word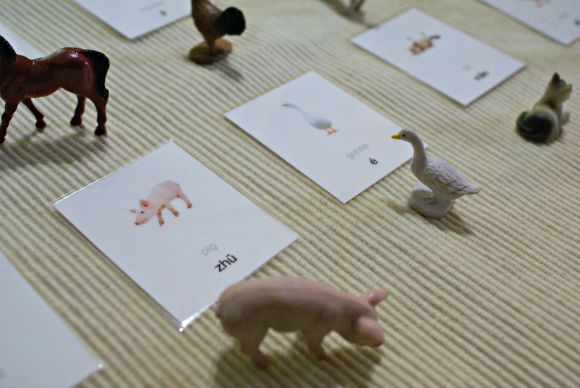 This activity works great for pre-readers as well as readers. As a pre-reading activity, the child matches the animal to the picture. For a reader, they can make the animal to the picture with the added challenge of saying the word in Chinese. (For the life of me, I can't find this printable right now. I'll update with the link when I do.) The animals are from our Safari Ltd farm animal toob.
Spooning
Writing a Story in Chinese
In the book Day of the Dragon King, the main characters discover in Ancient China books were written on slants of bamboo, from top to bottom and then tied together. We tried to recreate that here. You can find the character cards here. For a more in-depth look at making a bamboo scroll, check out this post from Exploring World Cultures with Kids.
I hope you were able to find some ideas for your travels through Ancient China! Don't forget to pin this post for later: