In keeping with our theme of knights and castles, this week we counted jewels with crowns (#1-10),
worked on a "tricky" puzzle*,
helped a knight find his way back to the castle*,
and a shield.
We also had some friends over who joined us for school, which spawned an idea/project that I hope to share with you soon. Whenever Joey's friends join us he works so much better. He's motivated to do his work, choose another, and stays focused, which goes to show you that Montessori was on to something with the 3 year age range and group setting.
We also practiced our practical life skills beating eggs:
Otto is growing so fast and enjoying playing alongside big brother,
exploring his sewing treasure basket,
and can catch his hanging bell,
and had a sensory experience playing with a corn cob.
Isn't he the cutest?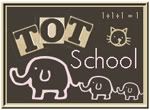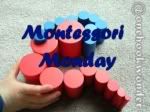 This post is linked to Tot School and Montessori Monday.
*Printables from the Knight Preschool Pack from Homeschool Creations.