Once we made
our knight shield
and we already had a foam sword (from the Target $1 section) floating around our house, it was time for a helmet. What's a knight without his helmet? I thought I could make a helmet out of cardboard, fabric, and hot glue.
And I did…kind of.
It looks more like a cardinal's hat (or more technically, I guess, a
biretta
) than a knight's helmet, but I think that could be easily fixed for you.
Materials:
cardboard
fabric (optional)
glue gun
glue sticks
tape
scissors
measuring tape (or string & ruler)
Directions:
1. Cut a 2″ wide strip of cardboard the length of your child's head plus 2″. You may need to piece together pieces of cardboard like I had too.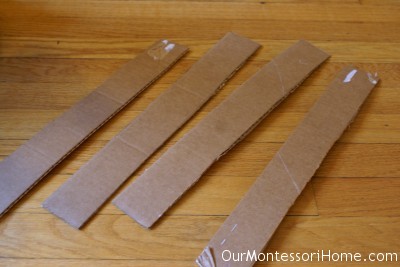 2. Wrap it around the child's head to find where it fits best and mark it with a pencil.
3. Let your child decorate the strip, then tape the ends together.
4. Cut two 1″ strips.
*This is where I messed up. I made my strips way too long, thus the height on the helmet.*
To find the correct length, have your child where the base of the helmet and using the measuring tape measure over the highest point on their head to the base, from front to back.
Use that as the length of your strip, making sure you leave enough length to glue on the base.
5. Glue the 1st strip to the helmet base, make sure to put the strip on the outside of the helmet, so that the thickness doesn't make the helmet smaller for the child.
6. Do the same for the 2nd strip, making sure they are perpendicular.
7. Glue the strips together where they intersect at the top of the helmet.
(Optional: If you want to keep it simple, just skip the fabric insert and move onto the feathers.)
8. This is where it got tricky and a few fingertips were burned. Nothing serious though. 🙂
Cut 4 triangles the size of your opening. I found it hard to measure this and when I went to glue it to the inside I had a lot of leftover fabric in some spots, but I figure more is better than not enough! Trim off any excess.
9. Glue feathers to the top of the helmet by gluing a thin strip of cardboard on top.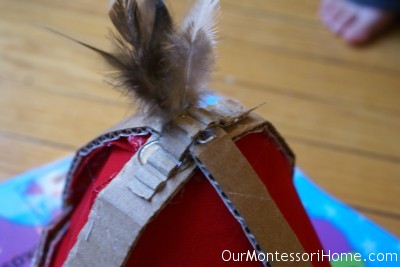 And you're done!
Though it's missing a few feathers, our helmet is still a well-loved costume piece.
He's a funny kid. 🙂