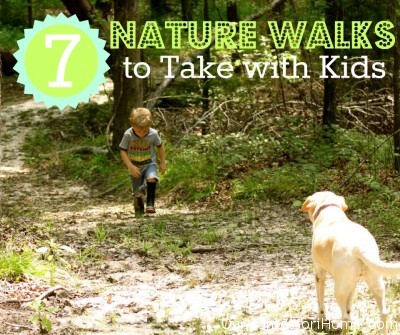 Since we moved out to the country we've taken daily walks in the woods. Even though the path we take is almost always the same, each time there's something new to discover.
Even if you don't have your own personal forest, make your way outside and take a walk. You'll be able to take these nature walks in a city (or state) park, backyard, or even apartment complex.
Most of these walks require little to no preparation, just a willingness to saunter at a child's pace and explore along the way.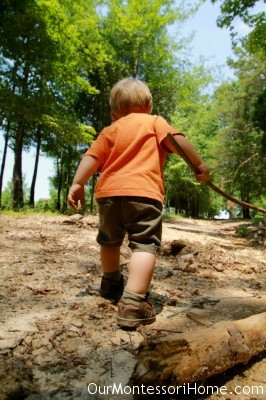 1. Opposites Walk
Make a list of opposites to gather as you explore–wet/dry, heavy/light, soft/hard, smooth/rough, long/short. Once you're done you can review what you found and talk about their differences.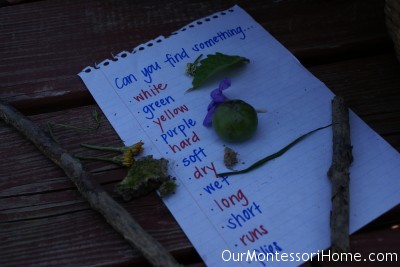 2. Senses Walk
Find items on your walk that appeal to the 5 senses – sight, taste, touch, smell, and hear. You could gather, take a picture, or make a list of what you find. The challenge would be to see if you can find 3 items for each sense without crossing categories.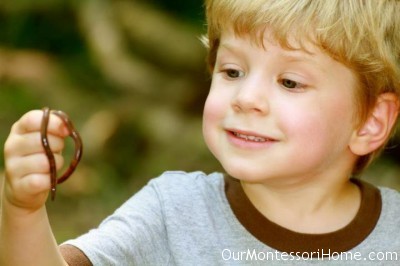 3. Photo Walk
Give your child a camera (perhaps a point-and-shoot, a disposable, or an old camera) to take pictures of things they find interesting on the walk. Whenever Joey takes over the camera, Â it's always interesting to see his perspective.
4. Leaf Walk
Collect as many different types of leaves as you can find. This would work great with a botany lesson. Another way to make a leaf walk more intentional would be to have a picture list of different types of leaves for the child to find.
A great extension would be to have a list with only the outline of the leaf and have the child match leaves to the picture. This would require more preparation up front (knowing what leaves will be on your walk), but if you keep the leaf list short (perhaps 5 max) and geared toward the age of your child it could be a great addition to a botany lesson.
5. Listening Walk
Take a walk just to listen. You don't have to gather anything or even make note of what you hear. As you walk, ask your children what sounds they hear and what do they think made the sounds. Every so often point out sounds you hear, like the wind rustling in the trees or birds hopping through leaves on the ground.
6. Bingo Nature Walk
Make a simple bingo card with 3 rows and 3 columns. In each square draw a little picture of something for the child to find, like a butterfly, flower, leaf, etc. If you laminate the card, the child can circle what they find and then reuse the card for another walk.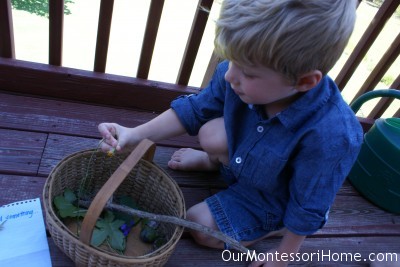 7. Color Walk
Make a list of colors (the rainbow would be a good starting point) to find on your walk. Document them by taking pictures, making a list, or gathering what you find.
What's your favorite activity to do with the kids in nature?