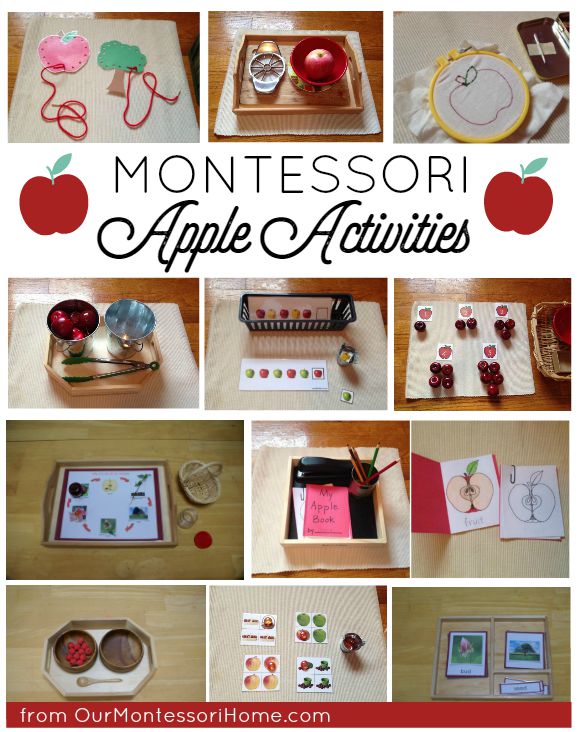 After this week, you know my love for fall, right? I'm eager to welcome the changing of seasons even if the temperature hasn't budged. The picking of apples and the baking of pies is another one of those things I don't hesitate to embrace with abandon.
Sure we've sweated the last two years we visited our local orchard, but all in good fun. We can't really control that it's still hot here in the South during the height of apple season or that Johnny Appleseed's birthday is right in at the beginning of the fall, but for apple pie and American tall tales we can withstand some heat.
This year we spent September learning about the life and legacy of Johnny Appleseed as well as the life cycle of an apple. It was a fun mini-theme unit to start the school year off.
What We Did
I wrote our own theme unit on Johnny Appleseed (more on that later) to help guide our learning. We learned about the man behind the legend, John Chapman. We had our first lesson with a timeline to find out when he lived compared to us. We also learned what Johnny Appleseed did, why, and what we can learn from his legacy of hard work, kindness, and resourcefulness.
We used some great resources from The Helpful Garden, along with a few books, to learn how an apple grows from a seed to a fruit-bearing tree. It's an interesting process. I have to admit I didn't really know all the in's and out's.
Montessori Apple Activities
We kept our apple activities pretty simple. Three-part cards showing the life cycle of an apple, matching the life cycle of an apple control chart with objects, making our own parts of an apple book, transferring apples, counting apples, and spooning apples. Lots of apples.
Counting Apples (Apple Number Cards from Erin Waters on TPT)
Three-Part Cards – Life Cycle of an Apple from The Helpful Garden
Three-Part Cards – Parts of the Fruit from The Helpful Garden
Spooning Apples
Transferring Apples with Tongs
Pouring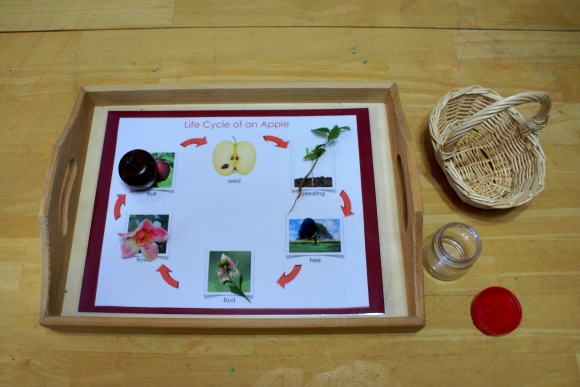 Life Cycle of an Apple Matching Tray (control chart from The Helpful Garden)

Parts of a Fruit Book from The Helpful Garden (I used the Parts of a Fruit Blackline Master)
Apple Patterning from Spell Out Loud
Which is Different? from PreKinders
Number Clip Cards from A Teaching Mommy's Dr. Seuss Unit
Lacing Cards (Tree Template from Brilliant Beginnings Preschool and Apple Template from Coloring Shapes)
Apple Sewing 
Chopping an Apple
Other ideas for Montessori cooking activities: making applesauce (in a pan or crockpot), baking an apple pie.
And, of course, we had to make an apple pie as part of food preparation.
For more apple activities, make sure to visit:
DIY Felt Apple Life Cycle from Mama's Happy Hive

Every Star is Different for Labeling Parts of an Apple, Matching Apple Varieties, and Apple Taste Testing ideas.
Gift of Curiosity for Dissecting an Apple
Living Montessori Now for Apple Unit Ideas
Inner Child Fun for Apple Taste Testing and Graphing
Welcome to Mommyhood for Apple Color Sorting
About the Mini-Unit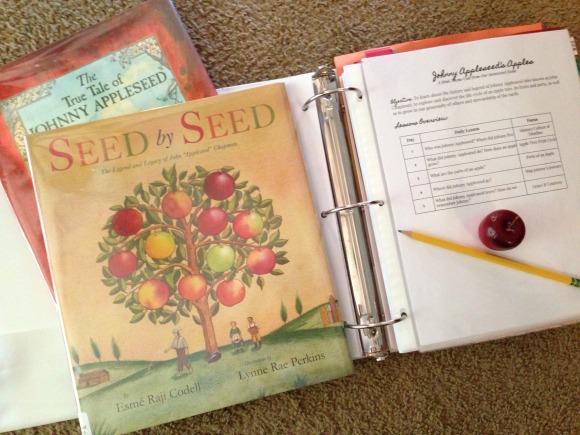 We titled the theme unit Johnny Appleseed's Apples. It's a week-long unit, designed to be taught over five days. You could easily extend or shorten it depending on whether you only want a few lessons on Johnny Appleseed or would like to go further in-depth of the apple life cycle.
Each day also has a subject area focus. For example, the first lesson is an overview of who Johnny Appleseed was and when he lived. The focus for that day is History/Culture & Timelines.  For how does an apple grow, it's Botany. The lesson focus on Johnny's legacy is Grace & Courtesy.
Each lesson has a narrative written as if you were teaching a group lesson. These are simply an informative guide. It's how I approached the topic and, perhaps, it'll take some of the pressure of planning off of you.
At the end of each is a suggested activity and book to read. Most of these books you can find through your local library or lends system. The final part of the mini-theme unit is a resource page. You'll find a cumulative list of the recommended reading, free printable downloads we used, a guide to mapping Johnny Appleseed's journey using Google Maps, and other materials we used (see above pictures).
Are you ready to embark with Johnny Appleseed? Grab a copy!

So what if apple season's passed! Grab it now and save it for next year! You'll be ahead of the game. (Unlike me and this year's apple picking.)