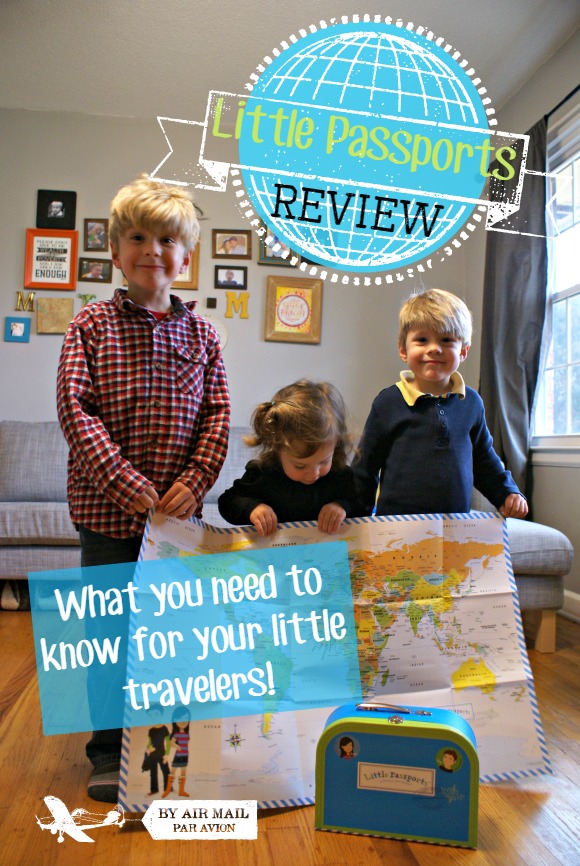 Subscriptions services are all the rage these days–you have craft subscriptions, wine subscriptions, healthy snacks, beauty products, subscriptions just for moms, and even beard grooming subscriptions. We like fun and new, but with ease. Apparently.
After trying Kiwi Crate and really enjoying our experience with them, I decided we should try another subscription service that's caught my eye, Little Passports.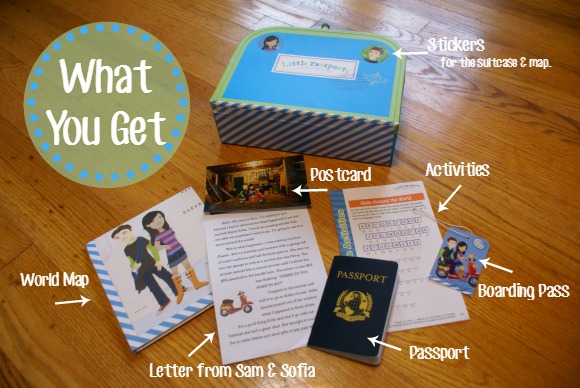 Little Passports is toted as a global adventure for children. Each month you get a package (mailer envelope) from two friends, Sam and Sofia, who travel the world (and US) on a scooter with a magical GPS. They send souvenirs, stickers, postcards, recipes, games, and stories each month from the country they're visiting.
I went with a 3-month subscription because I think that'll give us a more well-rounded, consistent experience of what Little Passports has to offer than a single package.
The first package you receive from Sam and Sofia is a small cardboard suitcase to store all your mail in and put your sticker from each country. You also receive a passport and each month a sticker stamp to go in it.
It's Arrival.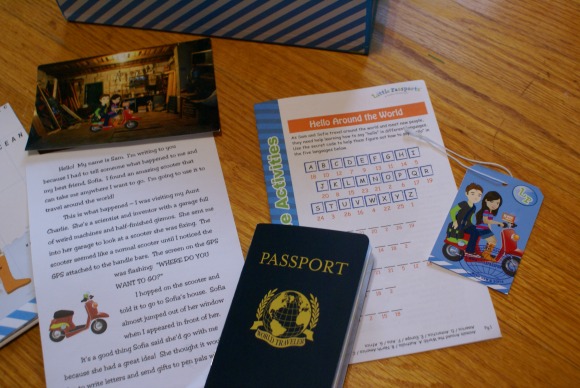 When the first Little Passports package arrived it was shipped in a box and we got our little suitcase. It's a cute little suitcase and I love the idea of covering it with all our potential "travels."
I was surprised there wasn't much in the suitcase. Just a few sheets of paper: a letter from Sam and Sofia explaining how they found the scooter with the magical scooter, a picture of them, the passport, and stickers of Sam and Sofia to put on the suitcase.
I was let down that that was it. I didn't really know what to expect, but I expected something more…better, maybe? The quality of paper was like cheap copy paper and some of our letter was smudged. I definitely wasn't impressed.
Doing the Activity.
There wasn't much to do. We read the letter from Sam and Sofia, looked through the passport book (there are a few things you can fill out, kids can interview parents about their travels, & put their own picture in the passport), a large fold-out map to put pinpoint stickers on for each country, and put the stickers on the suitcase. That was it.
Again, I didn't know what to expect, but after seeing how thorough, creativ e, and hands-on our Kiwi Crate was I guesss I was hoping for a similiar experience.
Thus was our introductory box, so I figured Little Passports had more potential once we started visiting countries.
Our first country was Brazil. (I'm not sure if they come in a predetermined order or if you can request certain countries. That'd be nice especially if you're pairing it with a country study.) We received the package in a padded mailer envelope. I didn't even realize what it was unitl I noticed a very faint stamp marking Brazil on the front.
When we opened this one, a few sheets of paper and a rock (in a bag) spilled out. It was more of the same from our initial box. A luggage tag for Brazil, a sticker for the passport and suitcase, a brochure-type paper telling few details about Brazil, a postcard of an animal they met (and talked to),  a recipe, and a few paper games. There's also a link and code to go online for more activities and games.
Once again, we read through the letter and put the Brazil paraphernalia on the suitcase, and we were done. The games were too advanced for my kids, so we skipped those.
(Little Passports recently came out with a new line called Early Explorers which  is geared toward 3 – 5 year olds, which may make it more accessible to my children's ages, 4 and 6. We haven't tried it yet, but it may resolve/adjust some of my disappointments with Little Passports.)
What do the kids think?
To my surprise the kids seemed to enjoy it. They thought it was fun to put the stickers on the suitcase and map. I think the postcards and papers were short enough to keep their attention span. Joey wanted to do some of the games and while he can go word searches pretty well, the one for Brazil was an unscrambling word game and he's just not there yet.
Momma's Last Word
Honestly? I'm disappointed in our Little Passports subscription. I think the concept is a great way to introduce kids to other countries and cultures. I just wish there were more hands-on activities and that it was accessible to younger children (again, the new Early Explorers set may address this). Right now, it feels like we're paying a subscription price for a few flimsy pieces of paper and stickers.
From a Montessori perspective, unless you have elementary readers, there's not much a child could do independently with Little Passports. While my boys stayed engaged with our first country package, we were done within 5 minutes. There's also the magical GPS too. What would've been so hard about Sam and Sofia traveling by plane, showing the process of packing a suitcase, going through the airport and such? They could even take other modes of transportation (like a bus, train, or boat) to get between countries closer together.
If you visit Living Montessori Now, Deb has built a ton of great Montessori activities around Little Passports. They could be a great edition to a country or continent study. I just feel that for a paid subscription there should be more than a few things I could easily Google. I was looking for more of an experience and hands-on activities than pieces of paper.
I think Little Passports has a lot of potential, but it's just not there yet.
However, we're going to stick with it for another month or two. I do think it has potential, but it just doesn't rank with the quality of Kiwi Crate.
Little Passports
Reviewed by Jessica Mueller on .
Summary: Little Passports has plenty of potential, but is lacking in hands-on activities for a younger (3-5 yo) crowd.
Review Stars: 3.5
This post contains affiliate links.