My friends know me as the dreamer. The one who sends texts that start off with "Okay…so ya'll know I'm full of crazy ideas" and then invites them to a May Day party that birthed an hour earlier. Some of them had never heard of May Day.
Honestly, I don't really know much about it other than my childhood memories of dancing with ribbon around the may pole and wearing flowers in our hair the first of May in primary school. But spring, flowers, and fun—sounds like a great reason to have a party, right?!
I love any excuse to throw together a party and wearing flower crowns is just an added bonus. So…this week the house of Mule is planning our very own May Day celebration.
May Day is a spring festival celebrated on May 1st in many European countries. It was originally birthed out of pagan religions, but with the spread of Christianity in Europe it became a more secular festival over the centuries as a celebration of spring. It's now known for dancing around the may pole, crowning Queen of the May, and anonymously delivering small baskets of flowers or sweets on friends and neighbors doors.
Our May Day Celebration
After that quick text, I made May Day invitations and the boys picked flowers from the backyard to put in the envelopes, then we mailed them off to our friends.
A Simple Meal
We're having our party mid-morning into lunch, so we're going to have simple sandwiches, fruit, lemonade/water, and dessert.
Flower Crowns
I bought a silk flower bouquet from Hobby Lobby, cut the flowers off, and made flower hair clips for the girls and used the leaves (along with floral wire and tape) to make laurel wreaths for the boys. Though I have a feeling the girls just might enjoy theirs more.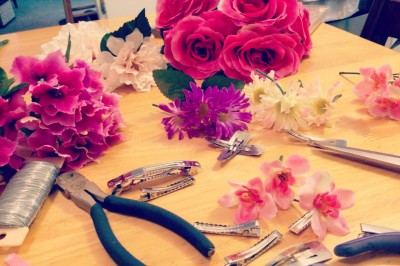 May Day Baskets
At the party, we'll make paper May Day baskets and fill them with fresh flowers to deliver to friends and/or neighbors.
May Pole
We're going to attempt a May Pole. If we can get it to stay up, perhaps we'll attempt dancing around it. I'm imagining with the variety of children's ages that will be the hard part, but then we'll just have a pretty centerpiece.
Crowning the May Queen
During our festivities we'll crown one of our young ladies the May Queen. To be honest, I'm not sure how the May Queen is chosen, but we're going to be approaching it by drawing a name out of a basket.
Other Ideas for May Day
If you planned your May Day celebration a few weeks (or months even) in advance, I think it'd be sweet to have children recite poetry they've learned, play or sing a song, or even present a dance. It'd be a fun idea for friends or homeschool families to get together, celebrate spring, and showcase their talents.
Looking for more May Day ideas? Check out my Pinterest board.
Have you celebrated May Day before? What'd you do?
I'd love to hear any plans you have or stories from past May Days.