One day down…eleven to go! Onto today's activities…
Crushing Paper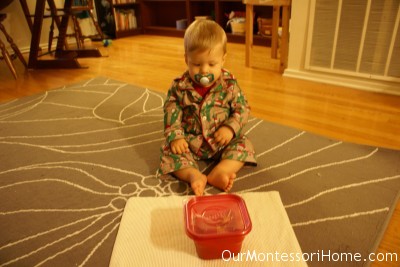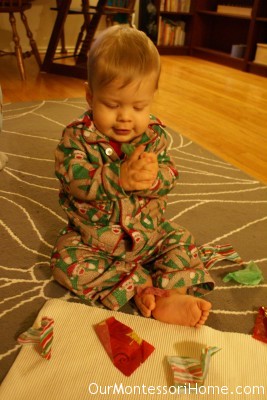 This is a fun activity for the older infant/younger toddler. I cut leftover Christmas tissue paper and wrapping paper into squares, and let them crush it. When I did this with Joey, I left the paper in an open basket, but since Otto is still putting everything in his mouth I used a tupperware container.
Decorating a Tree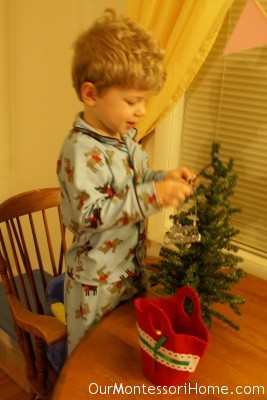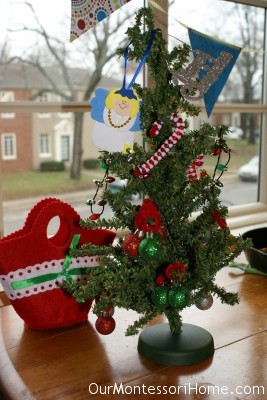 This is always a fun activity for kids. We have a small 1′ tree. You can usually find them pretty much wherever there's a Christmas tree or a craft store. I used plastic miniature ornaments and instead of the standard wire hook, I cut a chenille stick into pieces and wrap it through the hole. It's easier for Joey to handle and safer than finding metal hooks floating around the living room.
I also have a light-up necklace that we use as the tree lights. There are a few other random ornaments in the basket as well. We have another work making a candy cane out of beads that will be added to this little tree as ornaments when Joey finishes them.
******
Thanks for joining in with 12 Days of Montessori Christmas! I'd love to hear what ideas you have and what's showing up in your home.
Don't forget the Melissa & Doug giveaway ends Thursday at midnight. There's still time to enter! 🙂
Planning an Christmas craft projects? Join in on Saturday for a Christmas craft link-up!