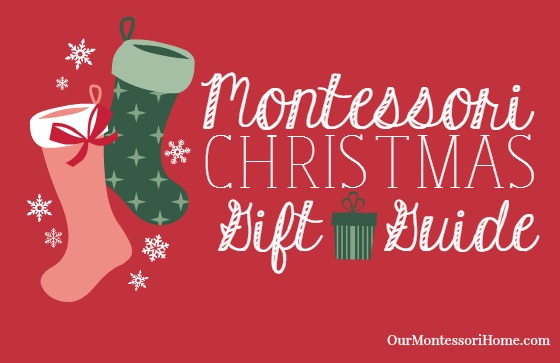 Our Montessori Gift Guide for Babies had me reminiscing to when our kids were still babies. With our youngest having just turned two we've grown past most everything on this list. A lot of what you'll find here are the basics of Montessori infant education. Very simple, but lovely and useful just the same.
For more thoughts and ideas on Montessori preparations for baby, I'd suggest Paula Polk Lillard's Montessori from the Start: The Child at Home from Birth to Age 3 as well as our Preparing for Baby series.
You'll find affiliate links in each gift guide, which means if you make a purchase through the link Our Montessori Home will receive a small commission. You'll be helping support our site and its future endeavors and our homeschooling. We appreciate you!
Merry Christmas! 
Montessori Infant Toys from Pink House Handiworks. These have long been a favorite in our home and pretty much the only toys you need in the between 3 – 6 months.
Toy Cloth Balls or Cubes from Montessori Services. Cloth balls are a great, simple toy for those early games.
Object Permanence Box from Montessori Outlet. All of my children have loved the object permanence box, it's brought many hours of joyful play.
Stacking &  Nesting Cups from IKEA. This is one of those classic toys kids love. Nesting, stacking, knocking down towers…it's a great toy for the 6-12 month crowd.
Montessori Mobiles from Bella's Casa (set of 4 mobiles).  With each baby I really wanted the Montessori infant mobiles. I even tried a few DIY. Let's just say they'd be easier to purchase. Bella's Casa offers kits to assemble yourself as well as mobiles already put together.
Muslin Swaddlers from Aden + Anais.These lightweight, muslin swaddle blankets are lifesavers. We've used them with all my kids and they've been my go-to baby shower gift too. They're larger than most swaddlers, so you have room to adjust the swaddle wrap to your baby's needs. They also double as a nice lightweight blanket, burp cloth, or nursing cover.
Wooden Rattle from Smiling Tree Toys.
A Baby Carrier or Sling. Baby K'tan was the sling recommended by my lactation consultant when our first was just days old. It's awesome with up to 6 different carrying positions and able to hold children up to 35lbs. You can also find picture tutorials for each position on their site.I was so disappointed when we lost ours traveling last Christmas.
Wooden Teether from Little Sapling Toys.  A simple, solid teether (and doubles as a toy) that's made it through two of my children.
Board Books are a great way to introduce literacy to the child. I'd suggest board books with simple illustrations and bright colors. Eric Carle's Brown Bear, Brown Bear, What Do You See? has been a favorite for years.
Don't forget to check out our other Montessori Christmas Gift Guides for toddlers, preschoolers, 5-7 year olds, as well as gift ideas for families!