Last Saturday, we stopped by the library and on our way out we walked past the Dr. Seuss books, which isn't unusual except that they were actually there. In the past when I've looked for them they've already been checked out. So I grabbed the 6 that were there and decided we would have a Dr. Seuss themed week.
We started with The Foot Book and painted our feet to make our very own family foot book. It's always cute to see little feet painted. (activity inspired by this post)
One morning we made green eggs and ham for breakfast. It's funny how just changing the color is 1) exciting for the kids and 2) makes you think the food will taste different (it doesn't but I definitely found myself hesitating to bite into green eggs).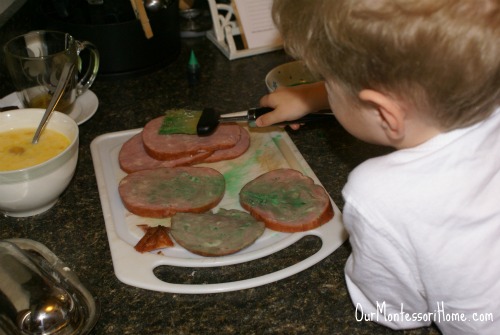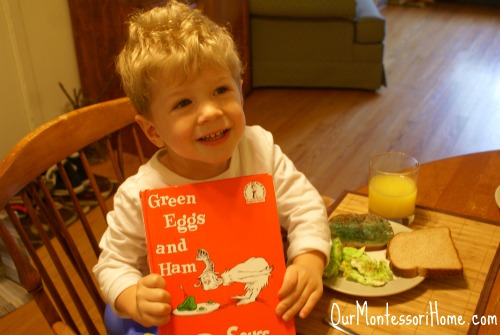 I found a lot of neat Dr. Seuss activities from other homeschooling blogs. I didn't take many pictures this week because the battery on our camera died and I haven't charged it yet (read: lazy).
With the Mr. Brown Can Moo! cube we rolled the cube to see what sound it landed on and made that sound. Since only 6 sounds I also put the book in the basket and we made sounds from the book as well.
Another activity inspired from The Foot Book was using our feet to measure different objects around the house.
We also did a counting activity from here. With a quantity of apples on stripes of paper and three numbers at the top. The object was to count the apples and put a clothes pin (fine motor skills at work) over the corresponding number. I was surprised that this held Joey's interest and that he could identify the correct number unassisted!
For a motor activity, I resurrected the old tossing bean bags into a basket from a distance. I introduced in the past Joey wasn't too and would just drop the bean bags straight into the basket. Now, he's getting the hang of actually tossing them a few feet away.
(The two sites I got most of our Dr. Seuss activities from were 2 Teaching Mommies and What the Teacher Wants.)
Little Otto has been doing great. He'll be 5 months on the June 17th, which is crazy! Time flies. He's been cutting his two bottom teeth, trying to push with his feet wheelbarrow style (pushing his face in the ground), and is grabbing onto everything! See:
He's definitely already interested in eating "real" food!
This week we're
Linking up with:Â