Summer is getting closer and closer and for our little family I really want to use the summer as a chance to slowly get back into a school routine.
We're very hit and miss when it comes to homeschooling these days and Joey is still reluctant most days.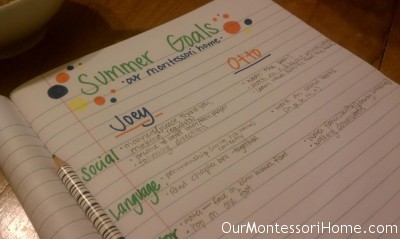 Yesterday I sat down and made a list of areas I'd like to see the boys grow in and things for them to learn. I've covered the four main Montessori areas, but also social skills (including working on character traits), motor skills, art, and reading chapter books together.
Some of these will be more formal lessons and others will be as life leads. Today, I'm planning on sitting down and writing an action step for each goal, because goals without plans are rarely realized.
As for getting back into our school routine, I'm planning on having our Montessori activities Monday, Wednesday, and Friday for (hopefully) 2 hours in the morning. There's also a good chance we'll be moving this summer, so I want to keep my plans flexible and still able to work in whatever transitional living situation we may find ourselves. (Update, 2014: Haha. We moved. Most of these goals were untouched, but we still had our summer fun!)
My hope is this will help us get back into a routine without being an overload and leaving room for summer fun.
Speaking of summer fun…
What do you have planned?
Summer Schedule for Kids via Somewhat Simple
This summer schedule looks the most practical for our family and may be one we adapt this summer.
Summer Activity Board via Brassy Apple
Here's a fun idea of making your calendar of summer activities for 30 days.
Family Summer Bucket List via Tatertots & Jello
This is a fun idea with a free printable list of activities and treats to go along with!
Summer Bucket List via Delia Creates
You could take a literal bucket and have family members write different things they'd like to do in the summer on clothespins. Then when you accomplish one drop it in the bucket!
Here's a fun idea and visual if you have the room. You could even do this on poster board.
Last year I printed out 101 Bits of Summer Fun from Laura Winslow Photography and taped it to our fridge. It's a great, colorful print. We didn't get many of them done, but there's plenty of great ideas for boring, summer days.
Have you made your own summer bucket list or have plans for summer schooling? I'd love to hear them.