At the end of February I bit the bullet and finally made my first purchase of traditional Montessori matierals. I'm glad I did.
After a bit of researching different Montessori companies and comparing prices I settled on A Plus Montessori. They were a little cheaper than Kid Advance Montessori and at the time had a special on free shipping if you purchased a certain amount of merchandise.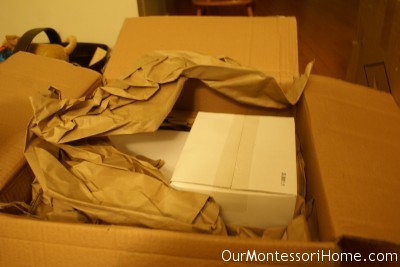 We bought
pink tower
brown stair
knobbed cylinders (set of 4)
geometric solids
dressing frames with stand (snap, zipper, tie, hook & eye, buckle)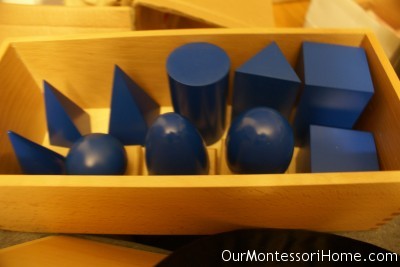 It was easy shopping and we received the order in about a week's time (maybe just over a week).
I love the materials. They came in great condition and were well packaged. They seem sturdy in construction and mostly consistent in measurements. Once we started to do some extensions with the pink tower and brown stair, I realized that not all the brown stairs were the same length and the smallest stair won't stand vertically–very disappointing.
Also, one of the pink tower cubes was a bit skewed:
I was disappointed with the dressing frames as well. The fabric on the frames was very loose, which when in the stand gives an unpolished look. We did struggle for awhile to get the frames in the stand without pushing the others around.
I was very disappointed that after only two uses one buckle came unsewed.
The hook and eye dressing frame was not what I expected. Hook and eye dressing frames I've used before had a much larger hook and eye. The one on this frame is nearly impossible for a young child to do, because it's so small and the fabric so tight (this happened to be the only one with the fabric tight).
There is a return policy for A Plus Montessori materials, but I thought it a bit odd and not quite customer friendly. If you want to return an item, you have to first e-mail the company telling them you'd like to return an item and why. Then, they will e-mail you back as to whether it is an approved reason to be returned.
This has to be done within 30 days of purchase. And the buyer is responsible for all shipping charges. (Click here to read the return policy.)
That's a lot of work for the customer, in my opinion, especially is the product is broken, damaged, or missing pieces.
I planned to return the frames, however we went out of town and forgot to e-mail the company. They're not horrible, but not the quality I would have liked. I would be interested to hear from anyone who was returned items to A Plus Montessori and what your experience was.
Would I buy from them again? Maybe. Honestly, it's probably depend on what I was buying considering the return policy.