On Friday, I made a little road trip (all by myself!) to Ikea to buy some much needed bookshelves and with the hopes of finding a dressing table for Joey's room. And, it was a success!
Ikea's so much fun to just walk through, but that is one of its downfalls as well. Everything looks so wonderful, cozy, and perfectly situated that you're tempted to come home with much more than you need! I had to watch myself in the kids area, while there was a lot of plastic furniture they have some definite hits!
I was able to get Joey a dressing table (it's really a nightstand) and I almost bought him a set of table and chairs at a reasonable price, but they were out of stock.
There were so many wonderful wooden toys! Simple and beautiful. I refrained from buying any…we'll leave that up to the grandparents for now. I saw a little girl walking around with this,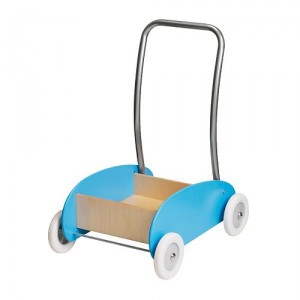 and I thought it'd be great for Joey since he's getting braver and stronger walking along the walls and from piece of furniture to piece of furniture. But, I was short on time and couldn't find it.
One thing I still have to organize is Joey's drawer in our kitchen. Right now, there's a bottom drawer filled with my plastic plates, cups, bowls, and cultery than he'll need and we don't even use them (except for the sippy cups)! I got him two little plates and bowls and some cocktail spoons, forks, and knives as his own size cultery which we've been using since he began eating solids. I really wanted to find a cultery tray to sort his utensils. And there was this,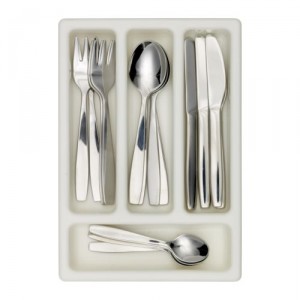 I was so tempted to buy it, but since we don't need the silverware I passed it up. I did find something else to use.
All in all, it was a fun trip and definitely tempting for the pocketbook! You should check out the wooden slide and seesaw they have too…so cute!