Tomorrow is our first day back to school and I just finished putting on the finishing touches to our classroom today. (Though it seems there could always be something else to add or improve!)
Our family is in a bit of a life transition right now. This summer we moved from Kentucky to South Carolina and are staying in my parent's garage apartment until we get settled in a job and house. We've turned the downstairs garage into a classroom. This is the biggest space we've had dedicated to schooling. Ever since we started Montessori, our school area has been a few shelves in our living room (we've grown from just one shelf!). This much space is such a blessing.
I keep reminding myself not to get too comfortable, because it's most likely whatever house we find won't have this much space. Perhaps if we find a decently priced 4-bedroom or a house with a formal dining area, we could turn the extra room into our Montessori homeschool room. But I keep reminding myself it's okay if we go back to our four shelves in the living room, storing the rest, and rotating work and supplies as needed.
I've organized our classroom by the four main Montessori areas: sensorial, math, practical life, and language. Not all the Montessori materials are in the proper sequence, since Otto still likes to put things in his mouth and I've moved some things (like bead work) out of his reach. I've added in a couple extra areas as well: listening area, art center, and poetry corner.
Welcome to Our Classroom
Listening Area:
Here we have our classroom music, mostly classical with a few kids cd's, audiobooks, and a hand-me-down cd player that's simple enough for Joey to operate on his own.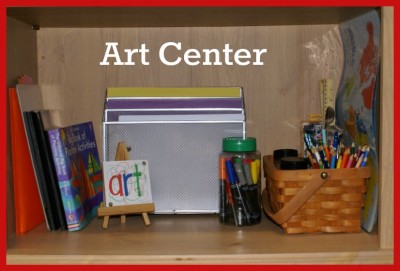 Art Center:
This shelf holds all our art supplies. The basket has watercolors, paintbrushes, chalk, crayons, colored pencils, pencils, an eraser, pencil sharpener, rulers, compass, and protractor. The container next to the basket has our markers and scissors.
Otto still likes to taste test things, so I glued the lids of the markers, chalk, and crayons shut. Joey can still screw the lids off and make art on his own. Otto has to have an adult sitting next to him, otherwise things get a little messy (and dangerous).
The file divider has 4 sheets of each color of construction paper, white copy paper, and watercolor paper. Each week I'll check the supply and replenish them.
1 – Art Supplies 2 – Art Inspiration Book
3 – Folder with Color-Coded Scrap Paper 4 – Art Journals for each boy
Our Library:
I read something recently that suggested having a quiet reading area (which we've always had), but with a limited number of books. I noticed the boys hadn't really been picking books from our personal library, so I packed up two boxes of books and left the bottom shelf with a variety of favorite books (mine and theirs). The top shelf has our recent library books showcasing our author of the month.
Our Calendar:
On the left side I have a list of the months of the year and an arrow pointing to the current month. Underneath is the days of the week and an arrow pointing to the current day. Both of these are to help Joey (and Otto) get acquainted with the sequence of months and days. Joey knows months and days, but not always in the correct order.
In the past, we've used the golden beads to count the days we're in school, but only up to the end of the month. I saw this idea to keep track of the days of school from Homeschool Creations, we'll still use our golden bead materials, but instead of starting over each month we'll continue through the school year.
For the '100 Days of School' board, each day Joey will write the number of the day until we reach 100 and then we'll celebrate.
Our Traditional Montessori Shelves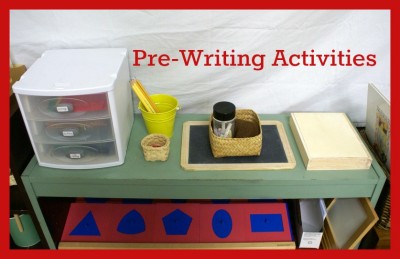 1 – Cutting, Pin Poking, Hole Punching 2 – Pencil Sharpening 3 – Chalkboard 4 – Sand Tray
1 – Beginning Sounds for Toddlers, Pre-Reading Cards, Pink Series 2 – Sandpaper Letters 3 – 'I Spy' Basket 4 – Beginning Sound Boxes
(When I finish our moveable alphabet, it'll go here too.)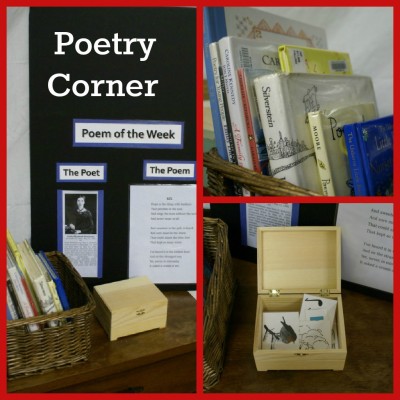 Poetry Corner:
Here we have our 'Poem of the Month' board with a picture of the poet, a mini biography, and the poem we're learning. In the basket are books of children's poetry and the box holds picture cards for key words in the poem, as a tool for memorization. (I know the board still says 'Poem of the Week,' I was a bit ambitious when we first started off. I just haven't changed it yet.)
Can you guess who this month's poet it?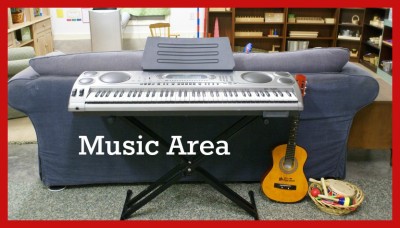 Music Area: Behind the couch we have our music area with a child-size guitar, a basket of wooden instruments, and our keyboard. We still haven't found the cord for the keyboard since moving, so it just sits there looking pretty and useless. Eventually, I'd like to start doing some type of rhythm or music lessons, but we'll work our way there.
***
I'm off to review our plans for the first day of school tomorrow and head to bed! Feel free to share in the comments about your homeschool classroom–no matter what it looks like–and include a link if you've written a post about it!
Join us on Facebook, that's where you can find little pieces of our days and I'll often ask your thoughts.