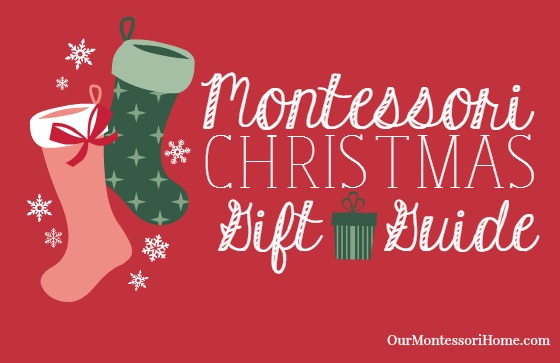 If you have a family member, friend, or neighbor who homeschools and you're struggling with coming up with gift ideas, how about something that will benefit their homeschool journey? You could ask if they're in need of any supplies, have a particular Montessori material on their wish list, or what they'll be studying the next year (you could find books or materials, like Safari Toobs, to aid their studies).
You'll find affiliate links in each gift guide, which means if you make a purchase through the link Our Montessori Home will receive a small commission. You'll be helping support our site and its future endeavors and our homeschooling journey. We appreciate you!
Merry Christmas!
Scotch Laminator& Laminating Pouches from Scotch. A laminator is a huge asset to any teacher, but especially helpful to a Montessori teacher and homeschooler with all the 3-part cards and other materials you want to last.
Language Object Starter from Montessori Services. This will cover most all of your language object needs from the pink and blue series.
Construction Paper and "Fun" Art Supplies (glitter, colored glue, stencils, etc) could be a welcome gift. So often the extra art supplies get overlooked.
Printer Ink. Montessori homeschoolers can print quite a bit and ink doesn't come cheap. Printer ink might be a welcome gift.
Moveable Alphabet from Montessori Outlet. The moveable alphabet is a classic, foundational material in the Montessori language series.
DK Encyclopedias from Amazonare great additions to any homeschooling family. If you know the family will be study a particular subject or period of history, then DK Books is likely to have an option for you.
Bead Stair, Bead Box (Decanomial), or Golden Bead Materials from Montessori Outlet.
Safari Ltd Toobs from Amazon. There are a wide variety of Safari Toobs from African animals to astronauts and the wild west, ancient Romans, and even a few life cycle sets. They make a great add-on to a themed study.
Books on Montessori Philosophy and Family Culture. A few of my favorite Montessori books are Montessori Today, Montessori from the Start: The Child at Home, from Birth to Age Three, How To Raise An Amazing Child the Montessori Way, Montessori: A Modern Approach, and Dr. Montessori's Own Handbook. A few of my favorite books on family culture are Simplicity Parenting: Using the Extraordinary Power of Less to Raise Calmer, Happier, and More Secure Kids, Home Grown: Adventures in Parenting off the Beaten Path, Unschooling, and Reconnecting with the Natural World (on my wish list), and The Rhythm of Family: Discovering a Sense of Wonder through the Seasons.
Large World Map or Globe from Amazon
Gift Certificate for Montessori Printables from Montessori Print Shop.
Trays, Practical Life Materials, and Manipulatives from Montessori Services.
Child-Size Dishes, Silverware, and/or Pitchers from Montessori Services.
Don't forget to check out our other Montessori Christmas Gift Guides for babies, toddlers, 2 – 3 year old's, preschoolers, 5 – 7 year old's, as well as gift subscription ideas for families!