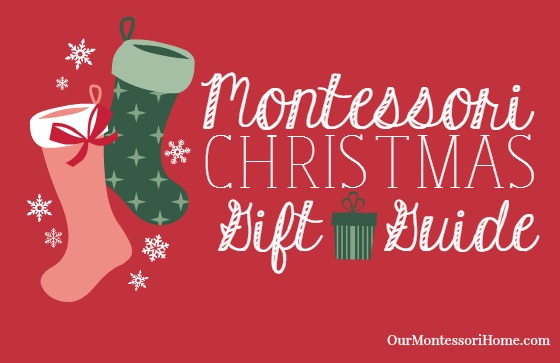 As your baby turns into a toddler desiring more independence and a growing need to do it themselves, our Gift Guide for Toddlers will give you a few ideas of toys that will encourage the "do it myself" as well as begin to build their focus. You'll also find toys that inspire movement, fulfill the desire to move and explore small objects, and encourage interaction with others.
You'll find affiliate links in each gift guide, which means if you make a purchase through the link Our Montessori Home will receive a small commission. You'll be helping support our site, its future endeavors, and our homeschooling. We appreciate you!
Merry Christmas!
First Set of Blocks from Little Sapling Toys. These are a great set of blocks for the young toddler. Just enough to learn to build (and knock down…of course) without being overwhelming.
Pull Toy  from Plan Toys.
Shape Sorting Box from Montessori Services. This simple shape sorting box is a great primer compared to traditional boxes with shapes on all sides. It allows the child to focus and find success in their sorting.
Wooden Drum from Plan Toys. A good, quality, and durable instrument to withstand the exuberance of a toddler with plenty of growing room.
Geometric Sorting Board from Plan Toys.
Farm Puzzle from Melissa & Doug. You know a puzzle is good when it lasts through all three of your children. The chunky pieces can also stand on their own for play too.
Simple Puzzle from Montessori Services.
Doll or Plush Toy from Nova Natural. This little fox is just so adorable.
Wooden Stacking Rings from Ikea. I've always liked the classic stacking ring toy, but never cared for the plastic. This is a great alternative.
Baby Playsilks from Nova Natural. Playsilks would make a great addition as dress-up, peek-a-boo, or combine them to make a colorful tent. These Baby Playsilks are 21″ x 22″, which makes them just the size for a toddler.
Don't forget to check out our other Montessori Christmas Gift Guides for babies, preschoolers, 5-7 year olds, as well as gift ideas for families!