Touch & Feel Sensory Books
We borrowed a small collection of Christmas board books from our local library and they're all new and in good condition, which is rare for library board books.
This isn't as "Montessori" as most of the other activities in this series, but it's reading and it's fun for Otto to turn the pages and feel the different textures.
Cracking Nuts
This is an overflow work from our fall sorting nuts activity. Joey was very interested to see what was inside each nut and how they were different.
It's a pretty simple work, but does involve some supervision and help. With the larger nuts, Joey would have a hard time balancing them in the nut cracker and moving both hands to the handle. Usually the nut would fall out before he could try to crack it, so I helped out there. It's also good to be aware of where their little fingers are, because they can get easily pinched if not careful.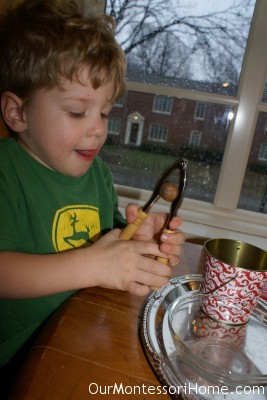 ******
Don't forget to check out the Little Sapling Toys giveaway! It ends next Thursday, so there's plenty of time to enter. 
Also, stop by and share what Christmas crafts you've been making this week at our Christmas Crafts link-up party!