Joey is 22 months.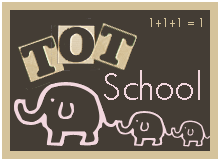 This is a nesting work with a plain Russian doll set I found at Hobby Lobby.
There are six altogether, but I decided to just start with the largest three until he gets the hang of it. He does pretty well, except sometimes he puts a doll in upside and it gets stuck.
This is a texture/pattern matching work. He did it completely and correctly by himself the first time.
I was hoping with all the time it took me to make the board and wooden cards it'd last a little longer. Oh, well.
Now I'm emphasizing the texture of each fabric square. Is it smooth? Soft? Rough? Bumpy?
As part of our morning routine, we're learning a new letter each week. This week was the letter m. I introduce it by its name and then we say its sound.
My goal is to have a book for each letter (which is what he's holding in this picture).
He has m down pretty well and is even beginning to recognize it on other books.
A simple pouring work with beads.
Coloring is probably his favorite activity these days. Yesterday he wanted me to draw airplanes for him to color.
After I got tired of drawing them, we made a paper airplane.
He had fun with it, but keep throwing it wing-side down so it didn't fly too well for him.
Lately, he'll bring one of his stuffed animals to be and say it went "poopy" or it's "wet." Yesterday, I found him changing a diaper. Do you think it's a sign he's ready for potty training?
Last weekend there was a free carnival on my husband's campus. It was a lot of fun and Joey had his first carnival rides.
What have you been doing in Tot School this week?